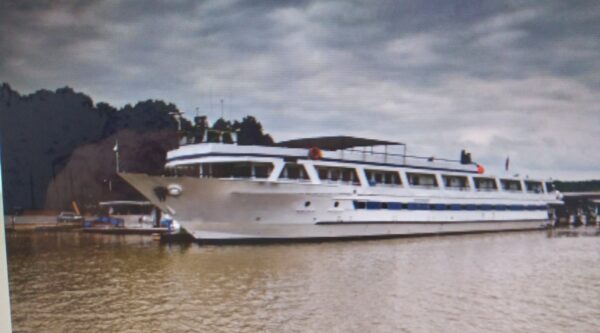 FILE# REFERENCE: 177-23     CALL TODAY:  MAIN OFFICE 321.784.5982
CAPTAIN JOHN POTTS WHATSAPP 321.544.2492
SE HABLA ESPANOL  WHATSAPP: 321.390.8045
VERY UNIQUE SMALL CRUISE WITH RETRACTABLE PILOT HOUSE
BUILT IN 1992
L.O.A. 177' – 3" L.W.L. 137.80" Beam: (Extreme) 40' Beam (molded) 39' – 2"
Designed Draft: 6' – 3" Depth (Molded): 9'
Gross Regulatory Tons: 99 Gross Tons (ITC): 667
Light Ship Displacement: 335.51 Long tons DWT : 340
Air Draft: 57' to the top of the Aft Mast
Vessel Description
can be reduced to 18-19' with the pilothouse lowered and the 3rd deck broken down.
Fuel Consumption: 55 gal per hour for fuel consumption average based on two main engines running at 1750 RPM's and one generator on line.
Passenger Capacity: 76
Crew Accommodations: 2 ea (6 person cabin), 1 ea (2 person cabin), 1 ea (1 person cabin)
Special Features:
The Boutique / Expedition Cruise Ship has vista-view wrap around windows in the dining room and lounge for the best daytime sightseeing in canals and other inland waterways.
The Ship is equipped with a unique, retractable pilothouse for
passage under low bridges on inland waterways. Extendable bow ramp, together with the shallow draft, makes it possible to cruise right up to beaches or into hard-to-reach destinations so that passengers can disembark directly on shore.
Separate cabin air-conditioning ducting with push button cabin temperature controls.
Stern swimming platform.
Stair lift is available for passenger with difficulty negotiating stairs.
 Vista view dining room and lounge on the second deck
accommodates all passengers for single seating dining.
Canopied Sun Deck: Extends 90 feet
Potable Water: 5266 gallons
F.O. Wing Tanks: 3541 gallons each = 7082 gallons
F.O. Day Tank: 519 gallons; Lube Oil: 519 gallons
Waste Oil: 519 gallons
Port Main Engine: Starboard Main Engine:
Make: Man Make: Man
Model: D2842LE; 571 HP @ 1800 RPM Model: D2842LE; 571 HP @ 1800 RPM
Serial #: 4937207105 Serial #: 4937207054
Spec#: 53110 Spec#: 53120
Gear: Twin-Disc Gear: Twin-Disc
Model MG-518-1 SN: 3W8319 Ratio: 3:1 Model MG-518-1 SN: 3W8319 Ratio: 3:1
Bow thruster: Make: Cummins
Model: 4BT3.9-M ; 150 HP @ 2800 RPM
Gen #1 (Starboard): Gen#2(Port):
2- Caterpillar Model: 3306 
BOTH Gen: 165 KW; 240 Volt Delta@1800 RPM 
Gen#3 (center line; lower engine room) Emergency Generator:
Make: Cummins Model: 6BT5.9-D(M) Model: 4BT3.9-G2
Gen: 95 KW; 240 Volt Delta@1800 RPM Gen: 55 KW; 240 Volt Delta@1800 RPM
Steering: Wagner Hydraulic; Engine Controls: Mathers Electric
Black Water Treatment: Omnipure 12MX; Toilet: Envriovac Vacuum toilet system
(Installed March 2005)
Oily Water separator: Nelson Bilge Boy Model 10025
Life Rafts: Viking
(2 ea 50 man model 50DK SOLAS B Pack; 1 ea. 25 man model 25DK SOLAS A Pack).
HVAC: Marine Air
Bow Thruster: Schottel 29.5"; Type S-51L;  (Direct drive off a Cummins 4BT engine)
PA System: TOA Amps w/CD Player; Television: Hitachi 52"
BRIDGE EQUIPMENT LIST
Equipment Manufacturer Model #
VHF Radio (Port; Fwd) I-COM IC-M125
VHF Radio (Stb; Fwd) ICOM IC-M126DSC
VHF Radio (Port; Aft) FURUNO FM-8500
SSB Radio ICOM ICM-700
Iridium Satellite phone system SAILOR
SSAS (Ship security alert system) Iridium
NAVTEX / Weather Fax Receiver FURUNO
AIS FURUNO FA-100
DGPS (Primary; Stb; Fwd) Leica MX420
DGPS (Secondary; Port; aft) FURUNO
RADAR (Port) FURUNO 1835
RADAR (Stb) FURUNO RDP-108
Fluxgate Compass (Heading
Sensor)
FURUNO PG-500
Electro Magnetic Compass Ritchie MD200B
Auto Pilot FURUNO Nav Pilot 500
Depth Sounder (Port) Datamarine D3000
Depth Sounder (Stb) Datamarine D3000
Engine Controls ZF Mathers 760 w/585 actuators
Main Engine Alarms Sea Marine Ltd. Sea Watch 1500X+
Generator Alarms Murphy ST5-AS
Rudder Angle Indicator Wagner 150
Fire/WT Door Indicator Panel Control 2507A