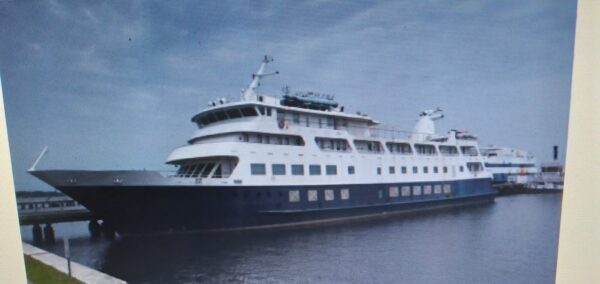 Sleek Aluminum Cruise Ship
Built in 1988 by First Ship Building Company
257′ X 45′ X 8.53′    Loaded: 12.5′
148 passengers berths in 69 cabins (138 PAX max sailing).
Well equipped galley with ample dry refrigerated and freezer storage.full laundry facility 
As a dockside accommodations ample berthing facility for up to 175 pax plus service crew classified +A1 Passenger Vessel+AMS by the American Bureau of Shipping and is certified for coastwise and international service by the United States Coast Guard.  Passenger Ship Safety Certificate issued under the provisions of the International Convention for the Safety of Life at Sea (SOLAS), a Certificate of Sanitary Construction issued by the FDA.Drydocked in Dec 2017, a few minor works remaining towards COI renewal. 
MAIN ENGINES: 2 GM-16V149
HORSEPOWER: 1960
GENERATORS: (3)GM & Cat – KW:325/460/102
BOW THRUSTER: YES – Ulstein / HP: 325